Would you like to trade in damaged body parts of your Super Dollfie® with new parts?

This service is to exchange damaged SD parts such as failed customizations, heavy modifications, or accidents that resulted in deep scratches into brand-new parts for a fee.
Definitions
Customization ... Minor changes to the parts, like sanding or additive epoxy putties.
Modifications ... Major changes to the parts, such as changing the structure of the head parts.
Detailed Information
Service Information
What you need
SD Parts for Exchange
Application Form
Appointment with Doctor
Expected Time: 10 ~ 15 minutes / appointment
The time may change depending on the case.
Time for Procedures
Once we bring back all the SD Parts that need to be exchanged from the event, we will prepare brand-new parts in Japan and deliver them to you through VOLKS USA.
Delivery of SD Parts
Expected Date: December 2019 ~ January 2020
Shipping fees will be calculated and charged prior to delivery.
Office Pick-Up is also available free of charge.
Questions & Answers
About the Service
Q.Would you provide this service to SDs who were not welcomed through VOLKS?

A.Yes. Any Super Dollfie® owned by our customers will be able to use this service. However, if the combination of the services requires a certificate (such as One-Off Models and Full Choice Models), the customer name must match the name on the certificate.

Q.Would you disassemble and/or assemble my SD for me?

A.No. Please disassemble your SD prior to the appointment. We will not have any maintenance tools at the booth.
About SD Parts
Q.I own a discontinued Full Choice head. Will you be able to exchange my parts?

A.Even if the Full Choice head has been discontinued, we can exchange it as long as we have stock. If you would like confirmation prior to the event, please contact VOLKS USA for more information.

Q.Can you accept exchanges for the School heads?

A.We are sorry to announce that limited items sold through SD Makeup & Maintenance Classes are not exchangeable.

Q.Can you accept exchanges for SD parts with the Old Skin colors?

A.Yes. For this specific event only, we will accept SD parts with Old Skin colors to exchange with Pure Skin colors.

Q.Do the new heads come with the "Schpitt" Magnet?

A.Depending on the head type, it may or may not have the "Schpitt" Magnet inside.

Q.My current SD parts are not Pure Skin parts with UV protection. Once I exchange them to new parts will they be Pure Skin parts with UV protection?

A.Yes. The newly exchanged SD parts will be made in Pure Skin with UV protection.
Combination Satogaeri Service
Q.Can I bring my One-Off Model to the Trade Exchange Service booth?

A.Yes. You can trade in your One-Off Model at the booth. Please understand that the new SD head will arrive with no makeup. If you would like to have the makeup reapplied to the new head, please fill out both Application Forms and answer "Yes" to the extra questions. The combination of these services will require a One-Off Model Certificate.

Q.How long will the combination of Satogaeri Service take? Am I able to bring my SD home after the event?

A.If you order the combination of Satogaeri Service, it will take around 3 - 4 months for the Face Beauty-up Treatment to be completed.
Terms and Conditions
Trade In SD Head Parts
New head parts will arrive with no makeup.
Whether the SD head parts (including One-Off Model head) comes with makeup or not, we will exchange them with the newer parts without any makeup.

Please also order the Satogaeri Service if you would like to have makeup on the new head parts.
The application of Face Beauty-up Treatment requires certificates depending on the SD.

Exchanged head parts require SD Head Plates.
Please make sure that the SD head has their original SD Head Plates. We will not accept any requests to reissue the plate.
Exchanges for SD and MSD head lids are not accepted.
Since SD parts are sculpted/modified for use with new mechanisms, each head and head lid varies in structure, shape, and size within the same models depending on the original model and reproduction period.
Therefore, we cannot accept exchanges for the head lid alone. Please make sure to submit both head and together lid as a set.

This will include Standard, Limited, and Full Choice Models.
Please be aware that if you submit both head and lid as a set, the new head may vary in structure, shape, and size depending on the head type.
Trade of SD Body Parts
New body parts will come unassembled if you trade in a whole body.
Please remove all structural parts which include S-Hooks, Lock Washers, Rubber Bands, KIPS, Elastic Cord, etc. We will dispose of all accessories that have not been removed.
SD Assembly Service is available through Satogaeri Serivce.
Please fill out the Application Form for Satogaeri Service, and order both "Body Beauty-up Treatment" and "Accessory Exchange (KIPS and Metal Parts exchange)".
Important Notices
This "Trade Exchange Service" is to exchange your SD parts for brand-new parts for a fee. This is not the service to sell the individual SD parts to customers.
This service is for customers who own the exchanged parts; these parts need to be delivered to the same person. We will not accept service requests by people other than the owner.
Exchanges for the accessories that come with Limited and Standard SD Models are not accepted (such as glass eyes, wigs, outfits, SD Plates, shoes, boxes, and instructions).
All SD parts will be exchanged for the same part that was given but in Pure Skin parts with UV protection.
(not like, S-sized → M-sized bust, White → Ebony Skin, One piece → Split body, etc.)
Due to the nature of the products, seam lines will be present on the surface of SD parts.
SD heads and special-ordered parts with Limited Models are made in limited quantities. Depending on our stock, we may not be able to accept exchanges.
Depending on the original model and the reproduction period, the structure, shape, and size of SD parts may vary even within the same product name or series.
Due to resculpting, the new SD parts you receive may vary in structure, shape and size from the exchanged parts.
There will be cases where differences can be seen in the skin colors of new SD parts and the parts you brought. Please note colors can change due to aging due to the nature of the product. Please be forewarned.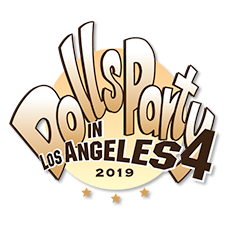 Date:
September 7th Sat & 8th Sun, 2019
Location:
Address:
700 West Convention Way, Anaheim CA 92802 USA