Event Information
What is Dolpa?
Dolls Party® (also called "Dolpa"), organized by VOLKS INC. known for SD (Super Dollfie®) and DD (Dollfie Dream®). Dolpa is the world's largest festival for Dollfie® and their owners!

This event showcases limited edition Dollfie®, creative handmade items by artisans and other fun festivities! The world of Dollfie® hopes to inspire doll hobbyists through it's "Doll Renaissance".

You may meet and welcome a new Dollfie®, or you can share your own Dollfie®'s unique personality with fellow fans... There will also be a plethora of beautiful outfits, shoes, and accessories that you have never seen before!

Plenty of wonderful and memorable experiences await you at Dolls Party® and will give you a "lamp of love" to your doll's heart.

Come and join us at Dolpa with your Dollfie®! Event organizers, staff and fellow doll fans are looking forward to meeting you and your Dollfie®!

Early-Bird Entry / Entry Lottery
Attendees who purchase the Entry Badge online are eligible for "Early-Birds' Entry"! These guests may be chosen to enter the event before others!
Lottery Schedule
Date:

September 8, 2019 (Sun)

Entry Start:

9:00 AM ~

Location:

Grand Ballroom
Available Services for Dolpa Attendees
There will be a variety of services available this upcoming Dolpa! Don't miss this opportunity!
Hotel Parking Spaces - Anaheim Marriott
Date:

September 7 & 8, 2019

Deal:

$26.00 $12.00 / day *On-site parking

How to:

Parking validation will be available at our Baggage Claim / Salon 3.

Location:
Hotel Room Blocks - Anaheim Marriott
Date:

September 7 - 9, 2019

Deal:

$239.00 $189.00 / day

How to:
Shipping Service - FedEx, Anaheim Marriott
Hours:

Sat - Sun @ 9AM - 5PM

Phone:

714-703-2250

Memo:

FedEx may carry boxes that can fit Yo-SD, Dear SD, and SDMidi sizes

Link:
Shipping Boxes for SD & DD – VOLKS USA
Date:

September 8, 2019 (Sun)

Price:

$3.00 / each

Memo:

Carrying boxes that can fit SD and DD sizes.

Location:

VOLKS Cashiers in Grand Ballroom
Baggage Claim – VOLKS USA
Date:

September 7 & 8, 2019

Price:

No charge

Location:

Orange County Ballroom Salon 3

Link: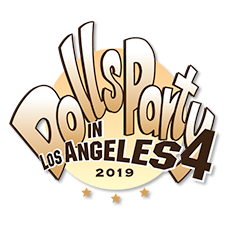 Date:
September 7th Sat & 8th Sun, 2019
Location:
Address:
700 West Convention Way, Anaheim CA 92802 USA