After Report
The on-stage events have begun!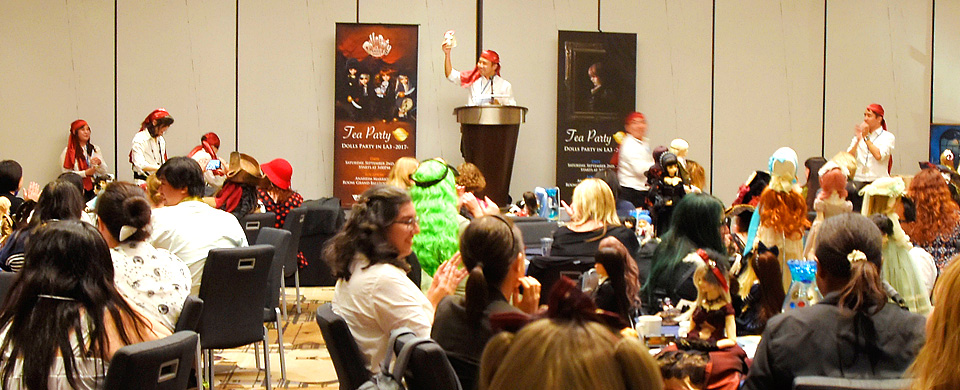 VOLKS USA Staff Sarah gave opening speeches and our guest Mr. Bruce Thomas provided an outline of his BJD event.
A present from the President of VOLKS, INC.
VOLKS INC. Managing Director Kuniyoshi Shigeta gave a speech and read a message from VOLKS INC. President Hideyuki Shigeta who could not attend this event.
And everyone was presented with a surprise gift – their very own "Polar Bear Shige-chan"!
He looks so happy ♪
SD Memorial One-Off Model Lottery
Finally, the SD Memorial One-Off Model lottery has begun!
Who will be chosen as an owner…?☆
Contest Results
The winners of "Dollfie® Owner Best Dressed Contest" and "Dollfie® Customize Contest" were announced.
The winners received much applause and cheers!
Exciting Raffle
The very exciting "Tea Party Raffle" started!
There were many special prizes including Sei-Tenshi♪
VOLKS USA General Manager Hideyoshi Shigeta drew tickets from the treasure box. He attracted everyone's attention.
A Surprising Announcement!
Everyone thought the Tea Party was coming to the end… But! Suddenly there was a surprising announcement! The name of the new Dollfie® is "Dollfie® ICON"!!
The Dollfie® ICON is still in the planning stage, but we produced prototypes to show Dollfie® owners in the U.S. We would appreciate any comments, suggestions and feedback from you!

>> Visit our Facebook page to see more details about Dollfie® ICON. (*Now in preparation, please wait for a while!)
The Party was coming to an end.
We announced that we had reached our goal for the ONE FOR ALL charity donation project. Thank you very much for your eternal kindness. We ask for everyone's cooperation to help others by donating to the American Red Cross for Hurricane Harvey Disaster Relief.
Time passes by much faster since we were having fun. It ended with General Manager's thank you speech.
---
After Report Menu