Entering Dolls Party in LA 2015
We will need to conduct a lottery for entering Dolls Party in LA 2015. Those who would like to line up before the doors open, please read the following carefully.
1 Please form a line in front of the door around 9:00AM ~ 9:30AM. The entry lottery begins at 9:30AM.
2 We will reorganize the entry line along the lottery results.Please refer to the diagram below.
3 After the line is organized, the attendees will begin to enter at 10:00AM.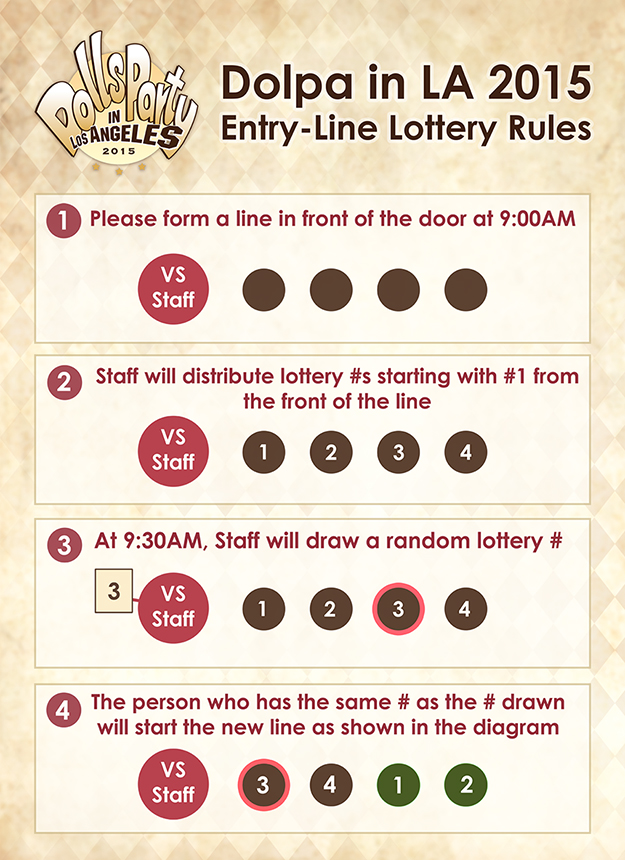 * Please follow the instructions from the staff.
* You may be asked to move to the end of the line if you create a line before 9:00.
* If you come arrive 9:30AM, please wait until the entry lottery finishes for further instruction.
* Please be aware that the time schedule may change depending on the situation.
Important Rules to Remember
◆ We are unable to allow admission of those who are younger than 15 years of age and pets to our event.
◆ Please refrain from bringing in dolls that are not produced by VOLKS.
◆ Product sales and monetary exchanges between visitors are strictly prohibited.
◆ Each customer may purchase only one of each item at the event. If we receive more than one of each item at the casher, we will cancel that person's order entirely.
◆ We will not be issuing a receipt at the register during Dolpa in LA. For those who will need a receipt, please contact the cashier as you make the payment. We will send an email with the receipt.
◆ We are dedicated to providing an exciting experience for both Dollfie® and their owners. However, due to safety concerns for both our guests we will not be permitting selfie sticks at the Dolls Party in LA venue.
Regarding of information on this site
When you enter and/or use services from Dolls Party in LA 2015, you agree with our rules and conditions on this website. The rules and conditions of this event are subject to change without notice, please check back frequently for the latest information. If you disagree or are not satisfied with our rules and conditions, entry to the event may not be granted.
Internet Connection
VOLKS USA is not responsible for any failure resulting from unstable Internet connections. If there is no reply from us for more than three business days, please contact again by email or phone.