The Scion's Sorceress
Y'shtola, a Miqo'te member of the Scions of the Seventh Dawn from SQUARE ENIX's
popular MMORPG FINAL FANTASY XIV Online, makes her debut in the Dollfie Dream® series!

Her midnight black dress utilizes many layers of fabric, each featuring a different texture,
to add volume and three-dimensionality. The fur collar further accentuates her striking presence,
and the asymmetrical design complements the look of her beautiful, yet mysterious sorceress attire.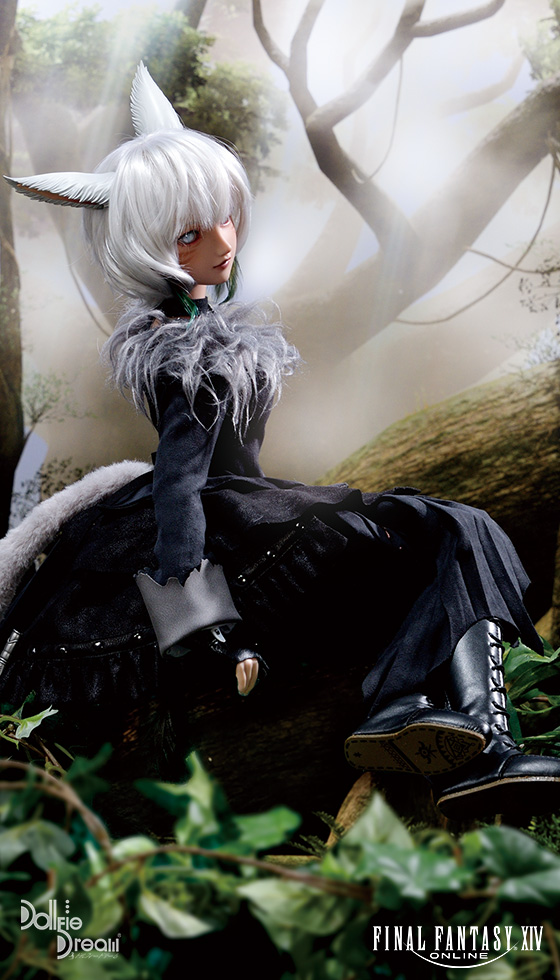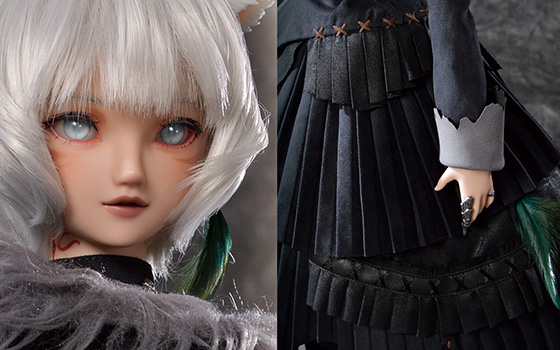 Her wise nature and enigmatic charm is highlighted by subtle makeup, and the form of Nightseeker, her arcane weapon, is evocative of the destructive power it holds within. Everything is presented in such exceptional quality one could only expect from Dollfie Dream.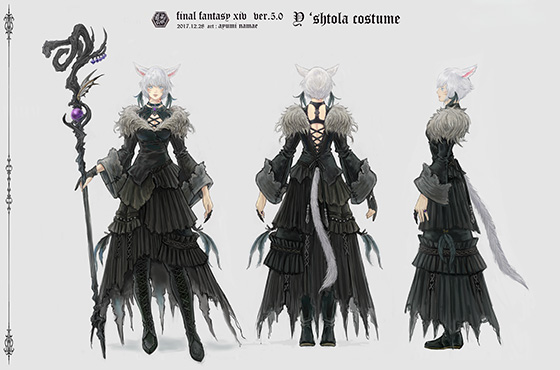 Supervised by Character Concept Artist Ayumi Namae.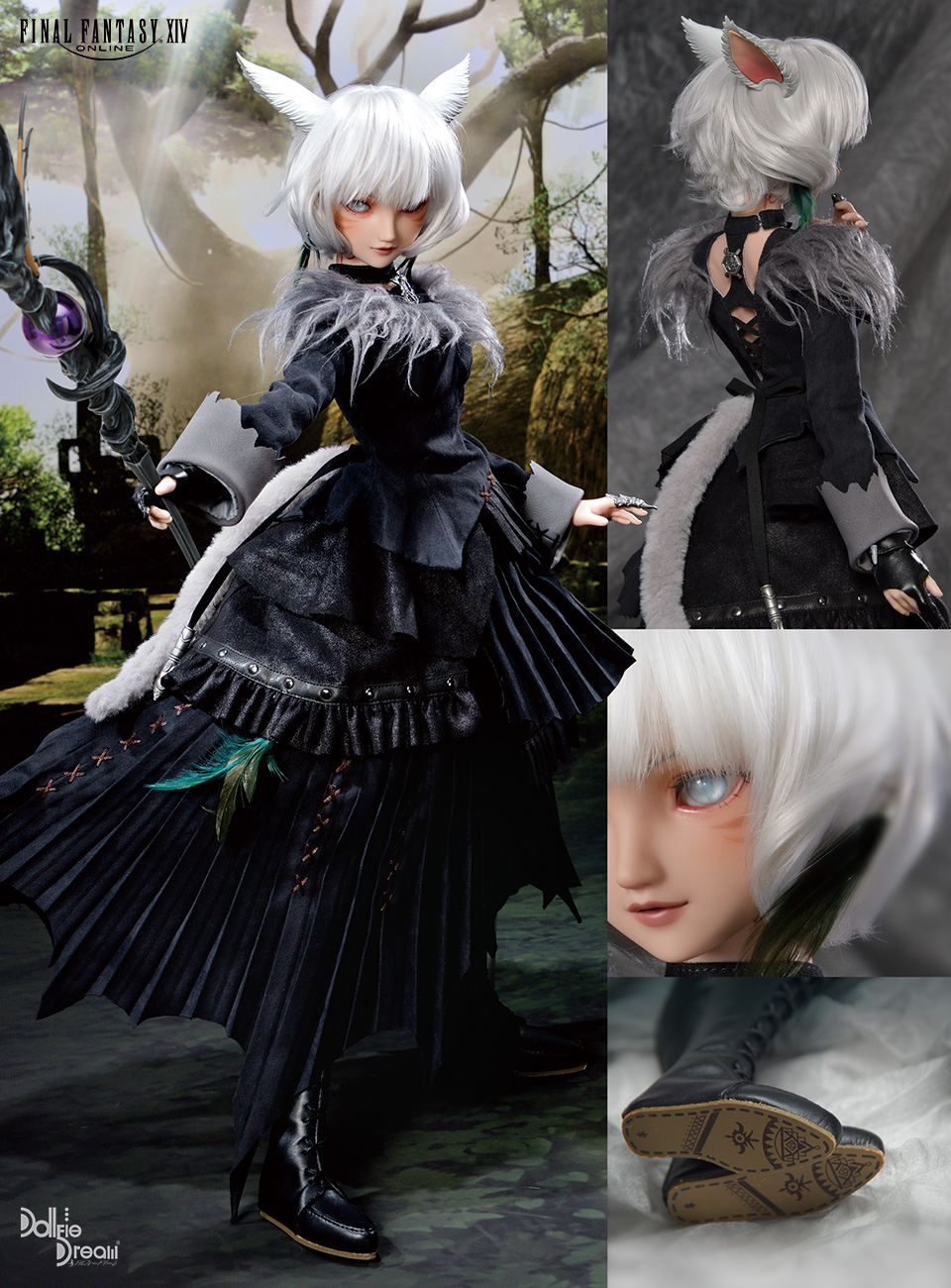 Comments/captions for each specific part of the Dollfie
- Rear view: No detail has been spared to recreate her striking silhouette.
- Shoes: We included the ley lines that are imprinted on the soles of her shoes, just like the ones she wears in-game.
- Eyes: Her eyes are detailed using resin to complement the look and feel of her overall form and makeup.
- Weapon: The meticulous detail in which the Nightseeker was recreated was made possible by the size of Dollfie Dreams.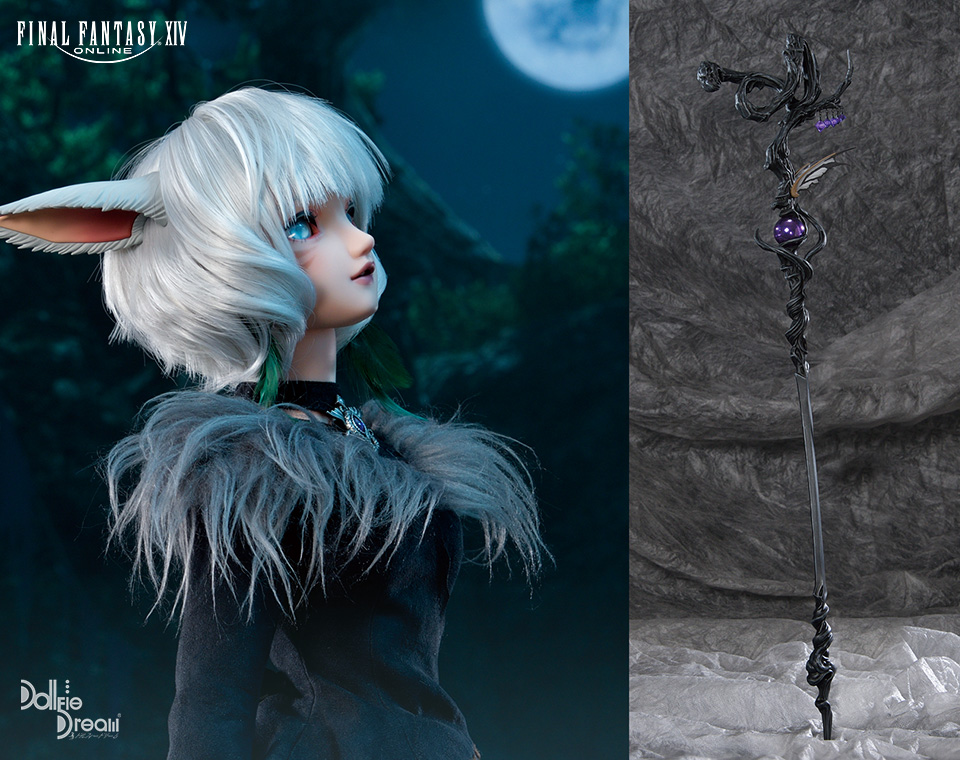 Dollfie Dream® Y'shtola

| | |
| --- | --- |
| Sculpted by | Serika Misaki (ZOUKEI-MURA) |
| Outfit Production | VOLKS Doll Design Department |
| Eyes | Resin Eyes DD "Y'shtola" Original Design / 18mm |
| Wig | DD "Y'shtola" Original Style / DD Size |
| Head | DD "Y'shtola" Original Head |
| Body | DD Base Body (DD-f³) / M Bust, Hands: DDⅡ-H-08-TN (Gripping Hands) |
| Skin Color | Tan |
| Includes | Doll, Wig, Hair Accessories, Top, Skirt, Leather Glove, Tail, Spats, Boots, Ear Pats, Costume Decoration Parts (for Neck and Back), Special Left Hand Part, Cane (Night Seeker) |
---
[Important Notes]
The item pictured is a sample. Please understand the items included may change and the actual product may vary.
Please be careful as the color of the outfit may stain the surface of the doll.
Please be careful as the color of the wig may stain the surface of the doll.
We recommend the use of a Dollfie Head Cap. [ Click here to purchase ]
The doll is made of soft vinyl. Please keep away from heat.
The outfit contains very delicate sewn areas. Rough treatment is liable to cause damage, so please take care when handling the outfit.
Pre-Order
[ VOLKS USA ]
---
[ SQUARE ENIX STORE]
---
*No longer accepting pre-orders.