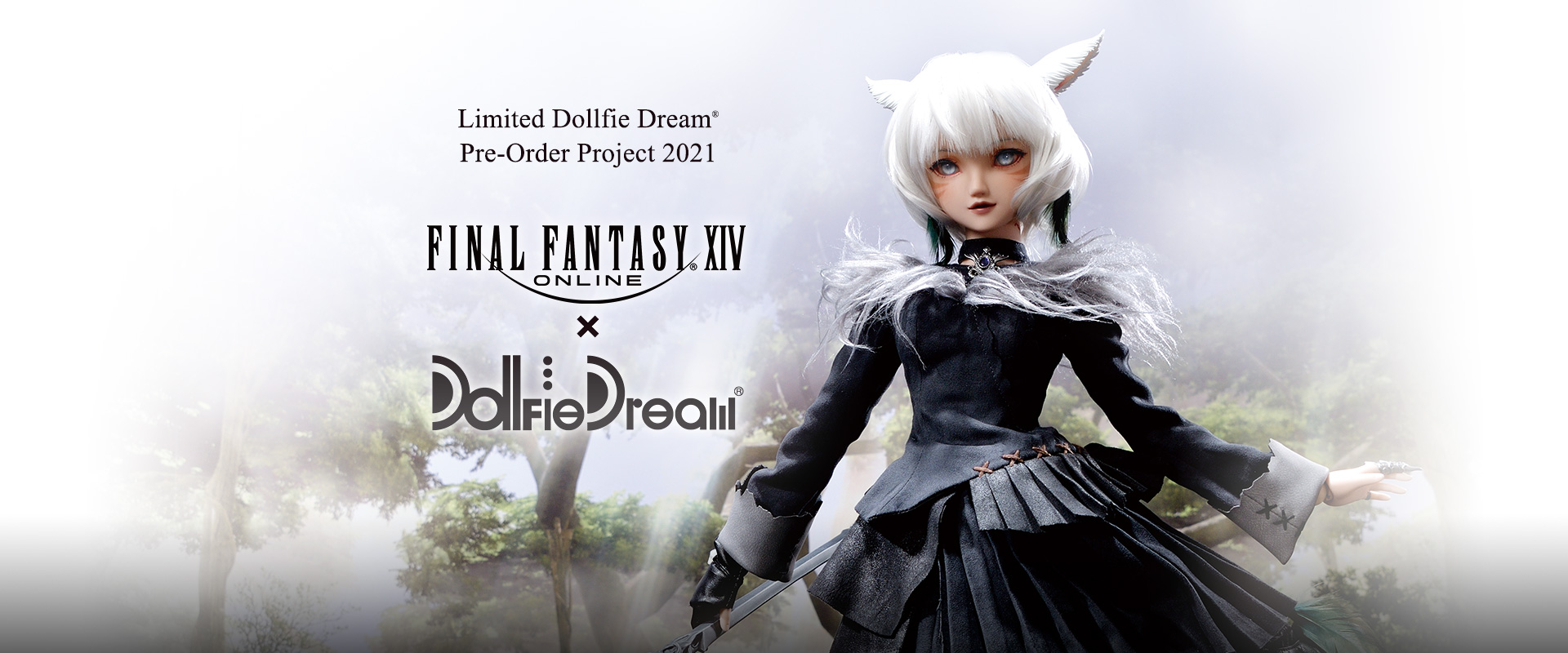 Acceptance of pre-orders has been closed.
Thank you very much for all your pre-orders!
News
2021.11.22

Acceptance of pre-orders has been closed. Thank you very much for all your pre-orders.

2021.09.24

Released a DD Y'shtola page!

2021.09.24

Launched our Limited DD Pre-Order Ptoject "FINAL FANTASY XIV × Dollfie Dream®" website!

2021.09.18

Started taking pre-orders!
Schedule
STEP1

The Limited DD Pre-Order Project has begun!

Sep 18, 2021

STEP2

Pre-Order Period

From Sep 18
~ Nov 20, 2021

All orderssubmitted during the Pre-Order
period will be fulfilled.

STEP3

Product Preparation Period

Dec, 2021
~ Winter, 2022

STEP4

Scheduled Delivery♪

Scheduled to be
December, 2022
*Pacific Time.
*The schedule may change without any notice.
*If we receive more orders than we initially expect, orders may be separated into multiple batches with later delivery dates.
Pre-Order Steps
1. Place DD limited item into your cart after you have checked the item information.
Then proceed to the checkout page.
2. Follow the instruction on the Checkout page and choose the shipping method you like.
3. A "Registration complete" page will be displayed once you are finished. An email confirming the completion of your pre-order will be sent to the email address you specified on registration. If you do not receive the confirmation email, please contact us at service@volksusa.com.
4. This concludes the registration for the pre-order for DD limited item.
Questions and Answers
Q1: What am I expected to do after I place my pre-order?

A: A copy of your invoice will be sent to you at the email address you used at the time of your pre-order. Please make sure to keep that invoice with you. VOLKS USA will contact you as soon as we are ready to ship your order. We will keep the record of your order on our system. However, if you do not receive the invoice from us after you place your order, please contact us our customer service at service@volksusa.com immediately.

Q2: Can I cancel my order while I am waiting to receive my pre-order?

A: You can cancel your pre-order during the pre-order period (by November 20, 2021).

Q3: Can I change the information such as the name, address, or phone number after my order is placed?

A: If you wish to change your information, please contact our customer service.

Q4: I want to place an order, but are there any differences in ordering at the VOLKS USA site and the VOLKS International Web Store site?

A: Yes. The orders will be shipped out from the store where you made your orders at. VOLKS International Web Store is run by VOLKS, Inc in Japan. Each store manages its events differently. Please read the regulations and contact the customer service of the store if you have any questions.
Important Notes
1. When you make entries or purchase orders through our web site, you agree with our Terms of Service. Since the terms of service are subject to change without notice, please check back with the latest information.
2. This pre-order is eligible for the registered VOLKS USA Web Store users residing in the USA, Canada and Mexico.
3. There is no limit to the number of pre-orders per customer.
4. Orders will be shipped out sequentially. It will take several days for us to complete shipping for all customers.
5. Please be aware that the delivery schedule may change, or that we may divide shipping into multiple groups depending on how many orders we receive.
6. The only payment option is by credit card, credit-logo debit card (VISA, MASTERCARD, AMEX or DISCOVER), or PayPal. VOLKS USA cannot accept any other methods such as money orders, personal checks, etc.
7. For those who chose "Pick-up" for your shipping method, please come to pick up your items within two weeks after you receive your pick-up notice from us. If you do not contact us or come to pick up your items within two weeks, we may cancel your order.
8. The item pictured is a sample. Please understand the items included may change and the actual product may vary.
9. Please note those who add regular items with this item will be receiving their order during the estimated delivery date mentioned above. If you wish to receive the regular items immediately, please make TWO separate orders for the regular items and this item.
10. Please note that these schedules mentioned above are subject to change without notice.
Please contact VOLKS USA Customer Service before ordering if you have any questions about this special web store event.
VOLKS USA Customer Service
:
Phone : 310-782-8324
Email:
service@volksusa.com
Office hours: Mon – Fri 9:00AM – 4:00PM (PT) / Closed Sat, Sun & Holidays
Pre-Order
[ VOLKS USA ]
---
[ SQUARE ENIX STORE]
---
*No longer accepting pre-orders.