Dear VOLKS Fans,
During this season we would like to express our sincere gratitute for your your continued support of VOLKS USA.
Once again, we are proud to announce that we will be hosting our Holiday Greeting Super Dollfie® One-Off Model Event!
Beautifully coordinated One-Off Models by the VOLKS Doll Department will be coming from Kyoto, Japan just for this event!
We hope that this year's Holiday Greeting Event will bring happiness and excitement to you during 2022.
Your support means a lot to us, and we will do our best to continue to share Dollfie® in North America for many years to come.
Sincerely,
Entry Period:

November 1st at Midnight ~ November 10th at 4:00PM (PT)

Result Announcement:

Late November 2022

Delivery Date:

Approximately Late January 2023
*Please note that this schedule is subject to change.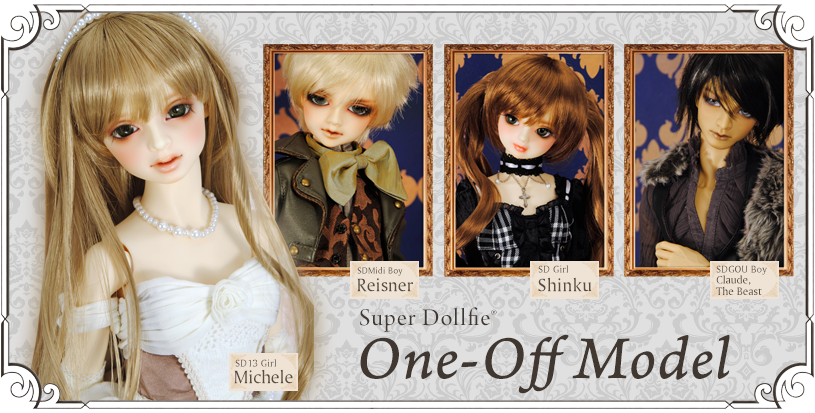 * This picture is a sample.
A "One-Off Model" refers to a one of a kind Super Dollfie® in the world carefully faced-up and coordinated by our fine Dollife® artists in Japan. These unique Super Dollfie® are only released at Tenshi-no-Sumika, Tenshi-no-Mado, Tenshi-no-Sato, and VOLKS Dolls Events and only available for VOLKS Registered Members to purchase.
No.1

No.2

No.3

Base:

SDM Girl


SDM-F-68


(PS White)

Make-up Artist:

Rumina

Base:

SD Girl


Souseiseki


(PS Fair)

Make-up Artist:

Luluco

Base:

SD Girl


Miruku


(PS White)

Make-up Artist:

aone

$ 693.00

$ 1078.00

$ 1078.00
No.4

No.5

No.6

Base:

SD Girl


Shinku


(PS Fair)

Make-up Artist:

Ciera

Base:

SD Boy


Michele


(PS Fair)

Make-up Artist:

Kinoko

Base:

SD13 Girl


Tae


(PS Fair)

Make-up Artist:

Ciera

$ 1320.00

$ 1023.00

$ 1045.00
No.7

No.8

No.9

Base:

SD13 Girl


Suigintou


(PS Fair)

Make-up Artist:

Kinoko

Base:

SD13 Girl


SD-F-100


(PS Fair)

Make-up Artist:

HARU

Base:

SDGr Boy


Kaelin


(PS White)

Make-up Artist:

Ciera

$ 1320.00

$ 1023.00

$ 1353.00
No.10

Base:

SD17 Boy


Amelia


(PS Fair)

Make-up Artist:

Tsukimi

$ 1518.00
Dress Design: VOLKS Doll Design Department
[Registration Steps]
1. Place the item in the cart after you have checked its description. If you wish to enter for multiple items, repeat the same procedure to place all items in the cart before going the Checkout page. One of each item per person.
2. Follow the instruction on the Checkout page and choose the shipping method you like.
3. Select "Lottery Entry" for the method of payment while checking out.
4. A "Registration complete" page will be displayed once you are finished. An email confirming the completion of your entry for this lottery will be sent to the email address you specified on registration. If you do not receive the confirmation email, please contact us at service@volksusa.com.
5. This concludes the registration for the lottery entry.
[Lottery Result Announcement]
1. The winner announcement emails will be sent to those who won the lottery.
2. Upon receiving the email, please read the included information for making your payment.
3. Please complete your payment with PayPal by the due date.
1. When you make entries through our web site, you agree with our Terms of Service. Since the terms of service are subject to change without notice, please check back with the latest information.
2. Super Dollfie® One-Off Model Lottery entries are only eligible for registered users on the VOLKS USA web-store residing in the USA, Canada and Mexico.
3. An entry for this lottery is to decide a winner to purchase the Super Dollfie® One-Off Model, it is not a free gift, and will not ensure your chance to win the lottery or to purchase your choice.
4. A lottery will be conducted for each of the SD One-Off Models. You might only win one of the items even if you have entered for multiple items. Please understand that we will not be able to answer any questions regarding our lottery selection process and how it is conducted.
5. One of each item per person. If more than one item/entry is made using individual/multiple web user name(s) and account(s), those user accounts may be closed without warning and will be barred from future web-store purchases.
6. Please be aware that VOLKS USA cannot accept any changes after your entry. This includes cancellations, name changes, change shipping address*, etc.
7. The only payment option is by PayPal. VOLKS USA cannot accept any other methods such as cash, money order, wire-transfer, checks, and etc.
8. Please be sure to complete your purchase by the payment deadline. Nonpayment for lottery item may result in order cancellation and account suspension.
9. Suspended accounts will be prevented from participating in lottery events and making future purchases on our web-store. Thank you for your understanding.
10. VOLKS USA will not honor any requests of transferring the winning right to any other individuals.
11. The item pictured is a sample. Please understand the items included might change and the actual product might vary.
12. Please purchase regular in-stock items separately from your lottery items.
13. Please note that these schedules mentioned above are subject to change without notice.
14. VOLKS USA does not send email notifications letting customers know that they were not selected as a winner in a lottery event.
*If you are moving and need to update your address, you will be able to update it. Please contact us if you have any questions.
---
Please contact VOLKS USA Customer Service before ordering if you have any questions about this special web store event.
VOLKS USA Customer Service:

Phone : 310-782-8324
Email : service@volksusa.com
Office hours: Mon – Fri 9:00AM – 4:00PM PT / Closed Sat, Sun & Holidays
Enter the Lottery
Thank you for your "Holiday Greeting" event entries!
The results of the lottery will be sent out in late November 2022.
We hope that your Holidays will become more entertaining and fun with our "Holiday Greeting" events!!
Close